1st January. A new year, a new month and a new official Colour of The Year to celebrate. Brought to us by Pantone, Living Coral 16-1546 is the juicy hue set to lift our spirits as we head into Winter.
After the warm orange with a golden undertone shade was seen all over the Fashion Week catwalks, Pantone pounced and awarded it with the title. Replacing last year's Ultra-Violet (you may remember a blog I wrote about it), it's creeping into new fashion collections, bringing with it the feeling of Spring time and Summer holidays. It's said to be inspired by endangered sea reefs and global political uncertainty, a colour that is vibrant and life-affirming.
And it doesn't just enter our wardrobes but our homes too on cushions, throws, accessories – just wait and see. Living Coral is a refreshing update on the millennial pink that has been everywhere in interiors over the last couple of years. This seems more grown up. It's bright and welcoming and I'm sure set to make you smile; what's not to love?
As a slave to fashion (see my Insta), I've scoured some of my favourite retailers to see what they have to offer from this colour palette.
Of course, Marks and Spencer always like to get involved with colour trends. I bought a gorgeous lilac wool coat last year and it's still one of my favourite items in the wardrobe. I like this Autograph Textured Single Breast Coat, which is a similar cut to my lilac one. It's "timeless and makes a gorgeous addition to any outerwear collection". Agreed. Do I need another coat though?
Sticking with M&S, I really love this longline Autograph Wool Blend Textured Cardigan too. With a white tee underneath and your favourite denim, it would be a key piece for your casual collection.
How about a new dress for the office or for that wedding that's coming up? This is a lovely, long-sleeved option for the cooler months from Karen Millen. More orange than coral, but consider different shades across the colour pallet, their Knotted Waist Mini Dress has a flattering cut and would suit many skin tones.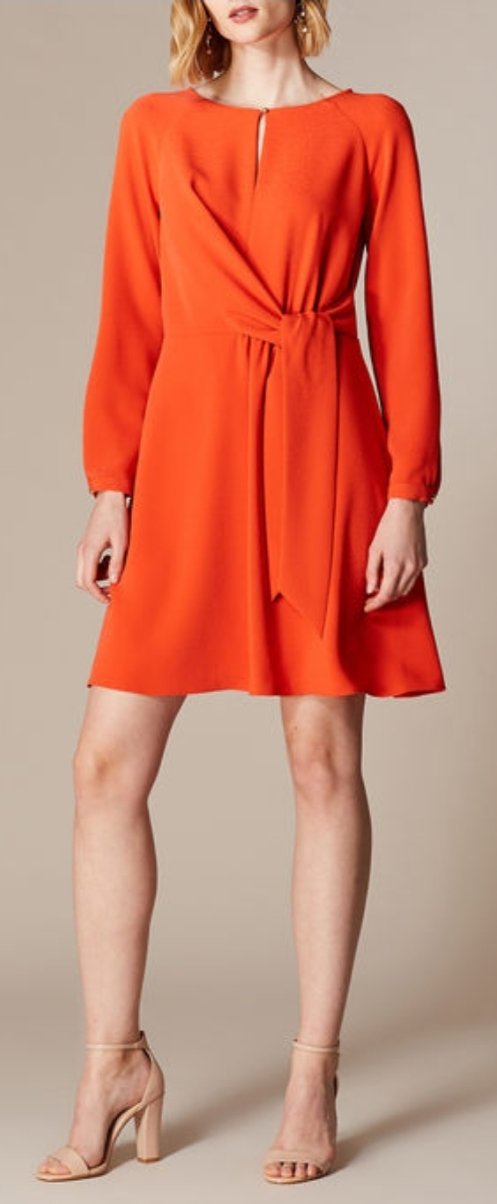 If you just can't think about wearing anything other than cosy clothing right now then maybe you should head down to River Island to try on this Bright Orange Knit Crew Neck. Paired with black skinnies it's a fab pop of colour.
There'll be plenty more to hit our high street and I'll make sure I add any other faves to my Insta Stories and Twitter – why not follow me over there? I post OOTDs most days and other pics of the lifestyle of a 30 odd year old.
Will you add any 'Living Coral' in to your wardrobe or home this year? If you don't fancy wearing it, you could always splash some of it on the walls!
Until next time, take care,
Natalie x