My old house went on the market in December 2018. I know, what a time of year to try and sell your house. I had been looking for around 6-8 months for a new home and whenever I saw one that took my fancy, I wasn't on the market and so obviously, I lost out to other people who were ready to pounce. I decided to get it on the market at Christmas time which meant no Christmas Tree for me and hardly any decorations, because we all know how much bigger our living rooms feel in January when we take the decs down, so I thought it was best to leave them in their boxes. It was weird not having them up, but I'll go all out this year.
Things slow down for around 3 weeks before, during and just after Christmas and then before you know it, it's a new year and people have decided they didn't have enough room to entertain guests back on the 25th, they fall out due to spending too much time together and hey presto! More buyers are hunting for houses when the second week of January comes around.
I 'sold' the house in around 5 weeks. From that moment on wards, and I doubt I'm much different to others who go through this process, you're praying the process goes smoothly, nothing goes wrong and you'll all live happily ever after.
It wasn't that simple for me this time round. I thought with having First Time Buyers buying my property, they would be the easy option. What came with that was a little dishonesty in terms of not being upfront with how long they were in rental accomodation for, then one of them losing their job, then wanting to extend the moving in date. At one point, I was sat in my car one lunch time in tears, having heard the bad news about the job loss, thinking that I was going to lose the house that I had fallen in love with. I'm sure it was a bad time for them too, but it was shit for me and the rest of the chain thinking that after 3 months, it was all going to 'fall-through'. I'd go as far as saying it was probably the most stressed I've ever felt.
New home, new project.
When I saw what is now my new home appear for sale on Rightmove, I knew that I wasn't going to be the only one who would want to see it. In fact, on the day I viewed it, the first day that the vendor was showing people around, there were 9 others viewing it too. It was the nicest plot, house size and location I'd seen throughout my search. I knew before I stepped foot in the door that I wanted it. At this point, I'd got the First Time Buyers for mine, which put me in good stead compared to other prospective buyers who possibly wanted it too.
I got that feeling, straight away. I knew I had to call this one my new home. It needed lots of work, in my opinion, mostly decorative but it was crying out for a new kitchen and flooring throughout. That wasn't going to come cheap but luckily, I made a substantial amount of money on my first and second properties and so this would allow me to get the new kitchen straight away.
It's always a good thing to be genuine and friendly with the estate agent involved in the homes you're looking at. They're the ones who can help you secure your dream. They play such a big part in the whole process and I was thrilled to deal with a young lady who was just a delight to work with. She really made me feel like she was on my side and this might have been because I told her how much I loved it, how I'd probably cry if I didn't get it. People buy from people at the end of the day. Unfortunately, she left the estate agency whilst I was going through the purchase process, quite close to the end. It still saddens me that she wasn't a part of it until the very end; she was fantastic. All you could hope for in an agent and she wasn't even my agent! I passed my thoughts on to her employer.
Back to the new house. I put my first offer in on the house, within the guide price, but knowing I was prepared to offer a little more. Securing the deal took two-three days and it was a really nerve-racking experience, these things always are. I couldn't believe it, my offer was accepted and it was going to be mine!
It's bigger than I ever thought I would own at this age. 5 bedrooms, large kitchen-diner entertaining space, 2 drives. It even has enough space for me to have a piano again and for Nala & Neve (my bunnies) to have their own room! For the independent woman I am, I feel such a sense of achievement to call this my home. I'm so excited to renovate it. Like I say, it's mainly cosmetic but there are new radiators to install – some need moving, internal doors to buy, carpets throughout and I'm moving the bathroom to one of the bedrooms to get a bigger bathroom. For the size of the house, the current one is far too small and I can afford to lose a bedroom at this stage. I'm going to be turning the current bathroom into a study/office, future proofing the house for when the majority of people will work from home, myself included.
I've lived here a little over a month. It feels like home and pretty much did from the moment I got in, more so since the new kitchen has been installed. As you'll see from the highlight on my Instagram, I've spent every day that I've not been at work pulling out the old kitchen, ripping up floors, removing floor tiles and wall tiles, laying new concrete tile effect laminate flooring in the kitchen-diner and conservatory, painting…. phew! The dust. I will not miss the dust.
Entertaining space
Before
During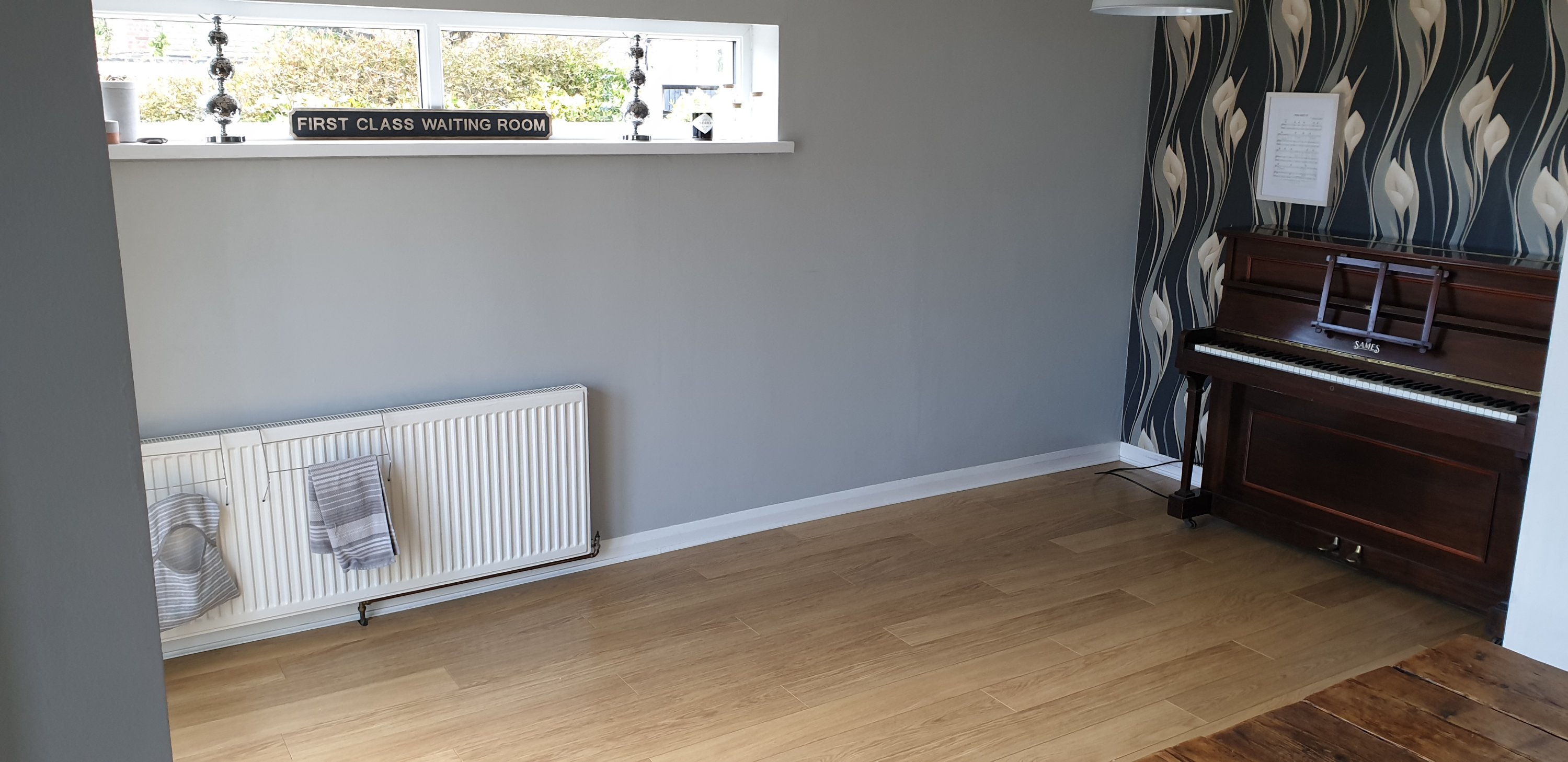 After
I love how we even got the lines of the faux grout to match up evenly (as requested!) From the kitchen into the conservatory so even that it elongated the rooms. There is just the splashback tiling to do now and my gosh is it hard to try and get hold of a tiler! I've done splashback tiling before but I've chose to go with an off-white herringbone style this time and that will just take up too much of my weekends. Time to get a man in!
My new kitchen is everything I wanted. It's the super-matt, anthracite Clerkenwell from Howdens with their new concrete effect laminate worktop. Handle-less seems to be the latest trend in kitchen decor and I felt with no handles, that's one more thing that can't go 'out of date'. The new floor is fantastic. When I moved in, there were three different floor coverings in the kitchen, the dining room and the conservatory. Having the same covering throughout looks sleek and has added another couple of feet to each area. Not really, but it's easier on the eye and so appears longer and wider. Having integrated appliances, which I've never had before, has really helped to keep things clean and streamlined. I'm not really sure what I'll use the conservatory for other than a place for the current black, leather sofa to go when my new ones are delivered later this month and perhaps a rug, a lamp and side table. Maybe it will just end up being where the washing gets dried on rainy days? One day I plan to put bi-folding doors on to one side of it as it's rectangular in shape, rather than those hexagon style ones you see.
During June, the living room will be painted in Polished Pebble by Dulux, the same as I've painted the kitchen-diner, and new wallpaper will go up, ready for the arrival of the new sofas. I miss the Kelly Hoppen Ikat grey wallpaper that I had in the hallway of my last home, see pictures of that above, so I've bought it for here to have on the largest wall and the two alcoves. Once that is done, the whole of downstairs is complete, other than the pantry and small hallway and porch. The plan is to have the whole house decorated and upgraded by the time the Christmas decorations go up. It might be my turn to cook and entertain this year and so I'd like it looking exactly how I want it for when the family are here. A new baby will be joining us in late July/early August too, my Sisters. Exciting times.
If you enjoy watching renovation projects, why not follow me on Instagram and see the house become my home? I also post OOTDs, fashion and interiors. You'll find me on Twitter too.
I won't leave it so long until the next blog. What can I say, moving house took its toll on my blog writing energy! I've not even been clothes shopping in nearly two months!
Take care,
Natalie.
X