Have you noticed that buttons are literally everywhere right now? Every name on the high street seem to have several pieces, whether it be down the front of a dress or over the shoulder of a top. Let's not forget the double breasted blazer is having its moment too.
Oversized buttons, usually in a contrasting colour to the material, add a bold impact. A lot of things I've been falling for lately seem to have button detail of some sort. The clothing is kept quite simple to allow the buttons to do their thing. I also think this trend can make clothing look really high end and more expensive than what it probably is.
On one of my lunch breaks earlier this week I nipped in to Next to pick some work trousers up for my BF. And obviously, once I'd returned the see-through white trousers back to Primark (you may have seen me trying them on one of my Insta Stories), I couldn't help but have a quick nosey around the store for myself.
Since the nights have become lighter I have been planning Spring/Summer outfits and looking for the best of the new season stock.
Look at this for a beauty of a white dress staple! The brown button detail is fab. I found it in the beach wear section but in my opinion, this dress is too gorgeous for the beach! One, it's too heavy and I would get hot in it and two, the lady at the till was right; you wouldn't want to get sun cream or oil on it. What I don't understand is why Next have called this "City Dress" if it's meant to be beach wear? The two don't 'fit' for me. It will definitely go to St Lucia with me this Summer and I know it's going to be in my Summer wardrobe for many years to come. 100%. The quality is unreal. The price is fantastic too. Many of you have said you love it. I didn't spot the red striped version in store but have seen it online. For me, the white is the winner. Much more of a staple.
Another dress that I like the look of is this 'Love of My Life' dress from Free People. It's a brand I hear a few of my favourite influencers talking about but I've never actually bought from them before.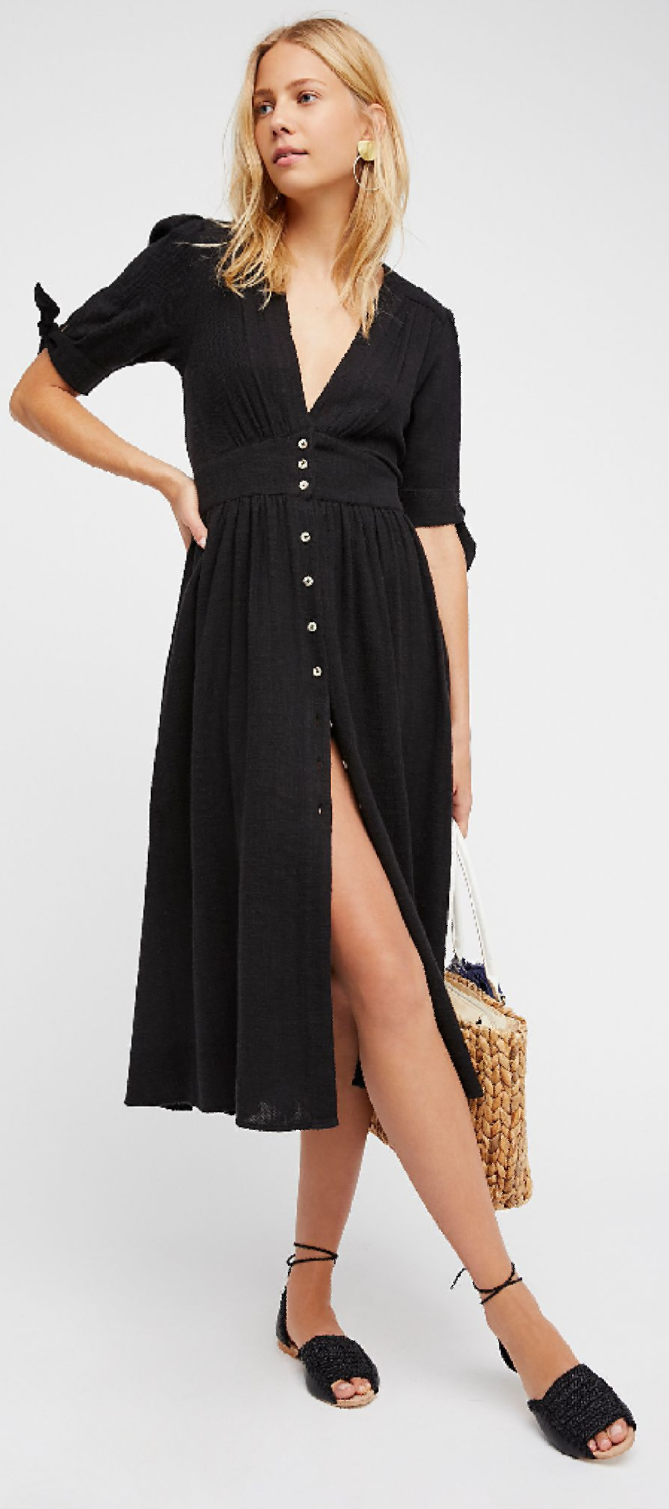 I just love the simplicity of it yet it has just the right amount of delicate detail. Think of all the bright colours you could pair it with. The round straw bag I have my eye on would go perfectly with it.
If you wanted to wear this trend for a night on the town, you might opt for this grey dress from Miss Guided. It could easily be dressed down too with some white trainers and denim jacket.
I'm all for comfort since I hit my 30s so the oversized shirt really appeals to me. This Topshop one goes so well with light wash denim for a casual vibe but put on some barely-there heels with this outfit and off you trot for cocktails with the girls!
Lemon is so flattering on lots of people; you're lucky if you can pull off a canary yellow shade! This simple cami, also from Topshop, is a great basic and perfect for layering.
When I spotted this skirt and blazer two piece online at Topshop I instantly fell in love. It's such an unusual colour and imagine it with a tan! I think the polka dot top suits it really well too. I've seen a polka dot bodysuit in Zara that I'd pair with this.
River Island are not shying away from the oversized button trend either. This white top also comes in a mustard colour and I could imagine seeing this style on the rails of Karen Millen. I love the cut and it would be a great top for work in the summer months. It's on my wishlist. Here is the mustard version.
Until it gets warm enough for no sleeves, you could try this full sleeve bodysuit, also from River Island. The colour makes white denim pop! It's also available in beige.
Have you picked up anything with a bold button detail recently? Show me!I love clothes and live for fashion. You could tag me in a post on Instagram or Twitter.
Thanks for reading and I welcome your comments below.
Until next time, take care, Natalie x
Image credits:
Www.topshop.com
Www.RiverIsland.com
Www.Next.com
Www.freepeople.com
Www.MissGuided.co.uk